Over the past year, with coronavirus mandates promoting or requiring people to work from home, Follansbee Inn began hosting a new type of guest, one for whom a desk is a priority. Some of these guests reserved long-term stays, wanting a "home away from home" that would allow them to maximize the benefits of working remotely. Follansbee Inn provided the perfect solution, a comfortable workspace and all the wonderful amenities of Follansbee to help working guests unwind, relax, and reconnect.
To make Follansbee more conducive to guests seeking to work remotely, we stepped up our efforts to add desks to guest rooms where possible. When Denis purchased Follansbee, only 3 guestrooms were furnished with desks. One of the 3 had a desk described in a review as "K-Mart furniture." That review was the initial motivation to add more attractive, functional desks.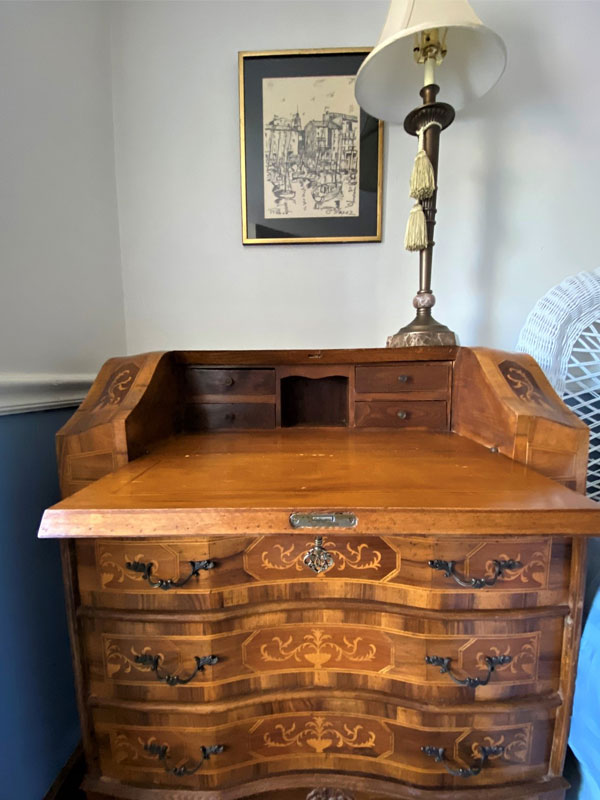 And the K-Mart desk? Denis now uses it as his computer/work station in the kitchen.
Now that so many of our guests are working from home, we continue our efforts to make Follansbee a better-than "home away from home" workspace. Fourteen of the Inn's 17 rooms now have comfortable, quality desks befitting our historic Inn, and 2 high-speed wi-fi networks and boosters bring reliable Internet connections to all guestrooms and common areas.
Why better than home? Given that Follansbee offers all this as well, wouldn't you agree it's better?
Delicious, hearty, homemade breakfast to start your day
Comfortable common areas—with cozy fires this time of year—for additional workspace or a place to unwind
Coffee and tea available 'round the clock'
Peace and quiet of North Sutton, an iconic New Hampshire village
3-mile scenic walk around Kezar Lake when you need a break
Lakeside relaxation when the weather gives us a break
Many excellent nearby restaurants for dinner
Self-serve bar when the workday's done
In addition to the guestrooms (Rylee Rose, Olivia, Bennett, Family Suite, Talbot, Jean, Lora, Deborah Ann, Mary Alane, Celia, Jennifer, Janet, Eileen, and Nancy) furnished with desks, the Inn's common areas, front porch, and lakeside area also provide comfortable work locations.
To make the most of your remote work experience, reserve one of our beautiful guestrooms equipped with its own personal workspace—thanks to the 14 desks of Follansbee Inn. And while you're here, take time to unwind, relax, and reconnect.