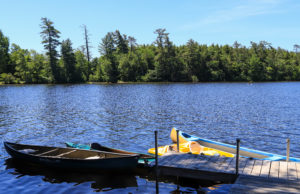 Looking for a quiet, relaxing, step back into the time of less stress and more relaxation? Follansbee Inn is the place for you.
Many of the beds and breakfasts and other inns located on the beautiful lakes in New Hampshire fall into the category of cookie-cutter, and could be considered the McDonalds of beds and breakfasts. Not Follansbee Inn!
This historic, gracious, charming inn is designed with the individual guest in mind. Close attention is paid to detail and to serving every guest in a way that is friendly and caring.
There are 18 amazing guest rooms, each with an en-suite bath. Furnishings are tasteful, and the beds are comfortable, something not found in every accommodation.
Follansbee Inn is a place to get away. Get away from the hustle and bustle of crowds and daily living. There's even no TV in the rooms. But the internet connection has been said to be good by guests, so streaming of movies is possible.
The daily breakfasts, served from 8 to 9 a.m., are delicious, unique, and clearly made with love for the well-being of the guests. And, the proximity to local dining spots for lunch or to New London, a short drive away, for dinner makes it easy to dine well.
Follansbee Inn also provides complimentary canoes, kayaks, bicycles, and other gear for playing on or around Kezar Lake. The lake is right across the road for the inn, a perfect location. If you prefer just sitting on the dock or on the front porch, they are also available for you. Kezar Lake is not one of the big lakes where people race up and down constantly, either. It's smaller, but very picturesque and inviting.
Follansbee Inn is located in a region of New Hampshire noted for history and access to outdoor activities. All four seasons are not only beautiful in this area of New Hampshire, but also open for outdoor adventures year 'round.
The host, Denis, has been said to be quiet and dutiful with great attention to detail in this historic inn. His dog, Angel, has also been said to be among the 'sweetest dogs on earth.'
So, if you need a getaway place to de-stress and just relax for a few days, Follansbee Inn is your kind of place!
When you want to enjoy time away, the ideal bed and breakfast in the Sunapee/Dartmouth region is Follansbee Inn. Call 603.927.4221. Come see us along the shores of Kezar Lake for an enjoyable and relaxing time.