Our proprietor, Denis Swords, talks about his passion for Cajun food, cooking and our wonderful guests: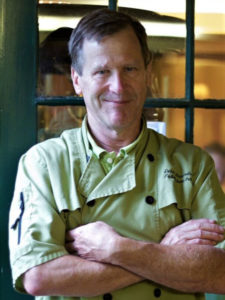 "Outside of Louisiana, Cajun food is mostly thought to be spicy, but really the focus of Cajun cooking is well seasoned food. New Orleans cooking is more influenced by the sophisticated French or Parisian style, Cajun cooking bears more country influence. Having lived in both areas, I believe I bring a mix to the food served at Follansbee. In any case, guests seem to love our hot, homemade breakfasts, such as:
Poached eggs with hollandaise on corned beef hash (made with home corned beef)

Cajun Eggs Benedict (poached eggs with hollandaise on fried boudin)

F

rittatas (with asparagus, gruyere cheese, and roasted tomatoes)

B

eignets

P

raline bacon

A

ngel biscuits (truly a guest favorite)

L

emon ricotta pancakes

T

he world's most awesome sticky buns(!)
My focus, my passion, throughout this learning process has been guest relations and learning to cook memorable breakfasts. In Louisiana, we are passionate about our hospitality, and we live to eat! I hope to impart this passion to the guests of Follansbee Inn.
It has been a gift to meet all our wonderful guests, who bring their own interesting stories, while living in one of the most beautiful areas in America. I thank everyone who has made this life a reality for me and have made Follansbee a renowned New Hampshire destination through complimentary reviews, word-of-mouth recommendations, and their own gracious role within the "Follansbee family."
I look forward to welcoming you many times, as you will hopefully, as many guests do, make a point of returning as often as possible to Follansbee Inn!"