Lakefront
Area Sightseeing
Outdoor Activities
Bicycling
Arts & Entertainment
Winter Activities
Area Restaurants
---
Lakefront
Follansbee Inn Lakefront, Boats and Bikes


Kayak, canoe, row, swim or sail to the island or inlet to view wildlife. Bicycle around Kezar Lake. Try our tandem bike! In the winter, use our snowshoes to explore. Use of our boats, bikes, helmets, snowshoes, etc. is always complimentary.[more…]
---
Area Sightseeing
The Musterfield Farm Museum


Located 1 mile and an easy walk from the inn, this 18th Century Homestead and restored buildings still has a working bicentennial farm. Civil War reenactments and Old Fashioned Farm Days in the summer, Ice Cutting on Kezar Lake in the winter are just a few of the charming activities at this historic spot.

The Fells (aka John Hay Estate)


Unique and historic estate where you can tour the gardens, hike through the beautiful estate, attend summer concerts or guided gardening, hiking or art events.

Saint-Gaudens National Historic Site




This National Historic Site has 150 acres including the home, garden and studios of famous sculptor Augustus Saint-Gaudens.

Canterbury Shaker Village


Tour the Shaker Village, eat at their outstanding restaurant, or attend one of their many craft workshops or old time events. Closed for part of the winter, so visit their website for dates of operation.

Craft Beer Breweries


Visit our nearby craft beer breweries that produce some of the best-tasting beers in the world. In fact, The Alchemist Brewery brews Heady Topper, a double IPA that has earned the distinction of best-tasting beer in the world according to Beer Advocate magazine. Also nearby are Lawson's Finest Liquids and Hill Farmstead Brewery, brewers of many award-winning beers. And lets not forget the Flying Goose Pub, less then 10 minutes from the inn.

The New Hampshire Telephone Museum houses a tangible history of telecommunications which can be viewed via guided or self-guided tours.
Visiting the Mt. Kearsarge Indian Museum you will learn about the Native culture of the Northeastern Woodlands, of the Southeast culture including the Seminole and Cherokee cultures as well as the Southwest cultures.
Enfield Shaker Museum
This Museum holds arts & crafts classes, concerts and more
Sunapee Boat Cruises
Take a dinner cruise around Lake Sunapee
---
Outdoor Activities
Our location is an outdoorsman's mecca, with many hiking trails, biking, golf, and boating activities available. Here is a list to get you started. Other hiking/biking trail information is available at the inn.
Canopy Zip-Line Tours


The Canopy Zip-Line Tour features a series of zip-lines, rope bridges and rappelling as you descend from the top of South Peak. There are eight zip-lines highlighted by the final 1,000' dual zip-lines to a platform behind the Learning Center, from which you will rappel back down to earth. From the first tree platform to the last platform you will travel a distance of almost ¾ of a mile above the forest floor.

Treetop Obstacle Course


Adventurers age six and up negotiate obstacles that stretch from tree to tree. From a central platform in the woods there is a beginner loop and an intermediate loop with obstacles that vary in height and difficulty. Obstacles include zip-lines, net traverse, rickety bridge, monkey vines, log crossing, plank bridge, rope bridges and more.

Off-Road Segway® PT Excursions


These excursions wind through the base area and lower slopes of Mount Sunapee on a Segway® PT equipped with special off-road tires. Ninety minute excursions are guided by Mount Sunapee staff and include an orientation. Come discover why Segways are even more fun when you take them off-road.
Miniature Golf
Disc Golf
Hike the Sunapee Ragged Kearsarge Greenway
A 75-mile loop of hiking trails, surrounding Lake Sunapee, crossing Sunapee, Ragged, and Kearsarge Mountains, and maintained by Greenway volunteers. The Greenway Coalition's seven winter hikes planned for 2013 begin January 19th. All hikes are free.
---
Bicycling
Bike New Hampshire's Northern Rail Trail


New Hampshire's Northern Rail Trail begins 5 miles from Follansbee Inn. The trail was built by the hard and loving labor of hundreds of volunteers and is now the longest rail-trail in New Hampshire, spanning 52 miles. For those interested in nature, the trail does not disappoint. Nearly 89 percent of New Hampshire is forested, including the area through which the trail runs. If you're looking to see moose south of Alaska, Tewksbury Pond and the surrounding marshlands between Canaan and Grafton is a place they frequent. The occasional bear can be found here, too, as well as eagles, herons, and a flock of wild turkeys in Canaan.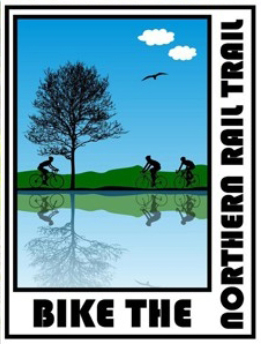 Bike the Northern Rail Trail


For a fabulous adventure make plans to bike inn-to-inn. Follansbee is part of a collaborative effort among several inns to set up the opportunity for groups or individuals to bike from one inn to the next, along the Northern Rail Trail and many other fabulous routes we have mapped. Packages include breakfast, lunch, and dinner along with the riding experience and the opportunity to stay in the area's best inns. Check out the details by clicking on the logo.

Mt. Kearsarge Hiking
A summer day hike to the summit with great vistas.
Mt. Sunapee Hiking
Hike to the summit and then to Lake Solitude, a glacial lake.
The Fells
Unique and historic estate where you can tour the gardens, hike through the beautiful estate, attend summer concerts or guided gardening, hiking or art events.
John Cain Golf Club
Twin Lakes Villa Golf
21 Twin Lake Villa Rd, New London (603) 526-6460 9 holes
---
Arts & Entertainment
---
Winter Activities
Our Guests are welcome to borrow some snowshoes and hike right from our door. Both Wadleigh State Park and Musterfield Farm provide for great outdoor exercise. Or choose to go to one of the local ski areas listed below.
– Mt. Sunapee Ski Area
– Ragged Mountain Ski Area
–Pats Peak
– Pine Hill Ski Club
---
Area Restaurants
A partial list of some of our guests favorite eating spots.